Barcelona Away Jersey 2009-20
Also, the next Apple TV will be...a fully fledged games console in disguise.:cool:

With integrated graphics.:p:p:p
---
Barcelona FC Home Jersey
Confucius say: Foolish is man who questions skunk in ancient tongues.

And don't even try to upskunk in pig latin.
---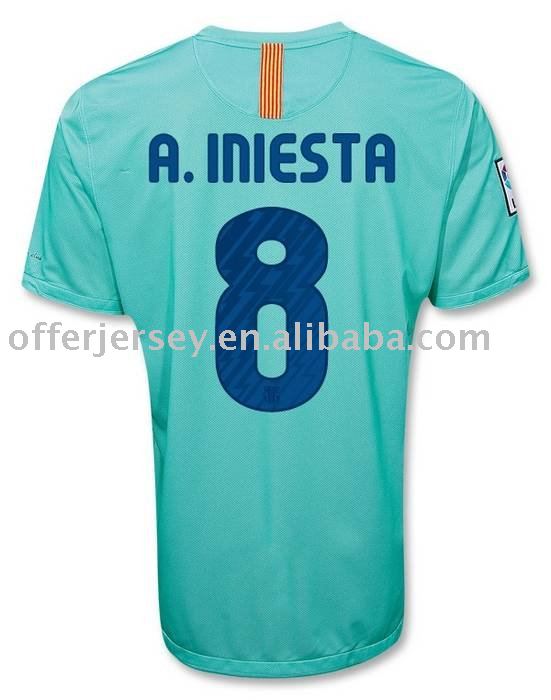 arcelona fc jersey 2012.
wireless is useless for watching movies. I use my mac now to get videos from NAS servers and wireless doesn't cut it. I need to be going 100 or else it gets choppy. Unless they release a new wireless access point.
---
New Barcelona 2009-10 home kit
by default and design, Windows has been more secure than OSX for years now...Google it...!
Well, we have indisputable proof now! :rolleyes:
---
arcelona fc 2011 jersey.
I live in good ole sunny California, down south. I don't have any troubles with dropped calls and I couldn't be happier with my at&t service. I am also totally stoked that the same company will be letting me upgrade early to the iphone 4. How awesome. I wish people all over the country had the same experience that I have that way maybe at&t wouldn't take so much grief for poor service.
---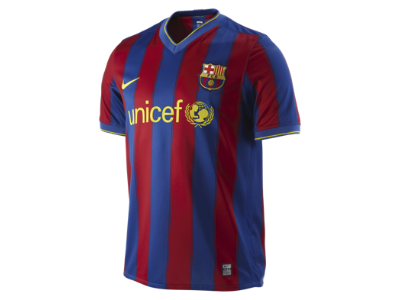 2009/2010 FC Barcelona Home
Absolutely ridiculous. Fat kids DO commit suicide, by the way. A lot of kids do. But these days it doesn't get in the news because it isn't sexy.

Absolutely.

Don't forget folks, being obese is a crime in half the world and punishable by death in a quarter of that world.

Remember, too, that obesity was illegal in several US states up until a generation ago.

And recount the number of openly obese individuals who were assassinated in broad daylight just because of the way their biological dice had landed.

Let's not just target bullying against those with obesity problems. After all, that means we are deliberately ignoring other types of bullying, and that just isn't sexy.
---
FC Barcelona Nike 2010/11 Home
timswim78
Sep 12, 05:41 PM
Ughh, I really hope that Apple upates this product before releasing it for sale.
Come one Apple, what about the:
- TV recording
- DVD player
- Built In Storage (Hard Drive)
- Input for digital cable

Some analogies:
- It's like an wireless XBOX 360, except it doesn't play games or DVD's.
- It's like a networked DVD player, without the DVD player.

I'd rather spend $300 on almost ANY OTHER electronics product.

What a disappointment... I guess Apple is just trying to stave off the competition from the media capabilities of Windows Media Center and XBOX.
---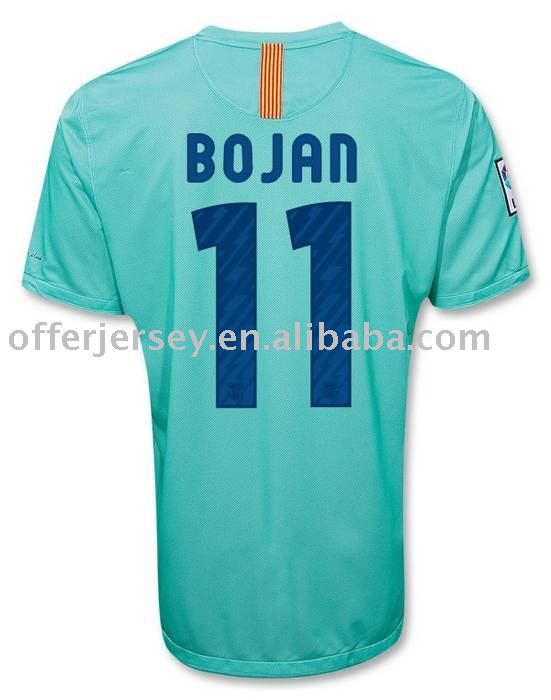 arcelona fc jersey 2011 new.
Caliber26
Apr 15, 10:17 AM
Theres ways to express your opinion (even if its pretty unpopular) without stooping to this. Not Cool

Agreed. But you know what, some people deserve not one ounce of respect. The minute one crosses that line with me, and takes the liberty to label me as a self-hater, guess what, you've successfully lit a fire under my *** and I'm gonna talk back at you in a fitting way. Point blank.

You can go ahead and read thru all my posts in MacRumors and you'll see that I'm not a negative whiner, or one quick to disrespect others. But I have zero tolerance for people that are quick to label or judge me for my views.
---
arcelona fc 2011 kit.
I think beyond a certain level all these Cores are only going to be good for building up your ePeen, speaking of which where can I get one? :D

Nevermind they are only 1.66Ghz each, there are 8 of them!
It's not the speed of your cores that makes you a man, it's how many you have! :D
---
arcelona fc jersey 2012.
dcranston
Sep 21, 04:30 AM
I'm glad to see at least a few people get it. Obviously iTV isn't for everyone. But let's take a look at the 6 most common complaints on this board:

1. I can already do this with a Mac Mini!

This may be true, but remember those are the same arguments against the iPod when it was released in 2001. You could already use a Creative MP3 player. Last I checked, the Mac Mini was still $300 more expensive, and is way overkill for a TV setup, not to mention the fact that you have to maintain a machine designed for mouse & keyboard use. Software Update comes up? Looks like you need to plug in that keyboard and mouse. Sure you can get most (if not all) of the functionality of the iTV on a Mac Mini, but who wants to spend $300 extra, lose some nice features like HDMI, and have to system adminster their living room!?


2. I don't need another box cluttering everything up.

First of all, perhaps you missed the size part of the presentation. This thing looks like a small hot plate. Second, if you don't have a need to get content from your computer to your TV, don't buy this. If you have a need, you're going to be forced to plug *something* in...


3. It doesn't have DVR functionality. I'm so mad.

I own a TiVO and I love it. And for the forseeable future, will continue to use it. But the point that needs to be reinforced over and over on these forums is that a TiVO fills a need because content is not delivered how customers want it. As this model adapts, TiVO will become irrelevant. It seems silly to try to enter this market late in the game with a product that would be comparable at best. Remember, iTunes sells content, and this market is just beginning to come out.


4. Apple wants to lock you in to their proprietary iTunes world.

While I'm sure Apple would be more than happy if you bought all your content on iTunes, I don't think anyone realistically expects that to be the case. Does anyone here think that iTV would only play iTunes content? I'll eat my left shoe if that's the case. You will still be able to subscribe to rocketboom and rip your dvds and make your own iMovies... I'm sure they'll play on iTV.


5. There's no hole that needs to be filled with this product.

Perhaps your habits are strikingly different than mine. I have an entire hard drive full of content: photos, movies, music, podcasts, and every free tv show iTunes has ever given me. But didn't I just spend $800 on my new TV in my living room? I did! I want to share this content with my friends, my family, and just have a better viewing/listening experience myself. The living room is designed for sharing and passively intaking content. The computer is designed for actively managing, organizing, and receiving. This product marries the two concepts.


6. iTunes downloads aren't economically sound vs. TV

Obviously this statement depends greatly on the user. For myself, I watch only a few TV shows. I love the Daily Show, I enjoy Monk, I recently got into 30 Days, and I enjoy the occasional mythbusters. Daily Show is $10 for 16 episodes, or about a month. TDS is often in re-runs, which I don't have to pay for. It comes out to around $70 / year. Monk has only 4-6 shows per season, and 2 seasons / year, or about $20 / year. I've watched maybe 5 episodes of 30 Days at $2 each or $10 (in the last 4 months), and I've purchased 7 mythbusters this year, or $14. So if I continue at the same rate, I'll spend $140 this year on TV shows through iTunes. My basic cable bill with Comcast was $60 / month or $720 / year. (And I know many friends who pay over $100 / month for cable, including HBO or Disney) Whoa! I cancelled Comcast and feel very liberated to only spend money on shows I find interesting. The free shows allow me to check out and be engaged by new series as well. I'm sure many of you watch much more TV than I do, but I have to say, you'll be surprised at how much crap you're paying for, and how nice it is to choose what you want only. Again, if you watch 4-6 hours of television / day (excluding old rerun shows or just turning on broadcast television), perhaps this model is not for you. Even still, multi-pass like Daily show/ colbert at $10 /month (or less) could give you 3 hours a day for $60 / month. Sweet. Time well spent :)

So is this the be-all-and-end-all of devices? No. But if I can walk into Best Buy, and walk out with a $300 no-hassle device that lets me play all of my content passively and easily in the living room, that lets me manage and choose content in an interface designed to do that very efficiently (iTunes), and without the need for any other support hardware, installations, hours of configurations, or monthly subscription, I'll be pretty happy.
---
fc barcelona fans
Liquorpuki
Mar 16, 01:18 PM
1/ Oil is relevant to electricity generation as we move forwards with more use of hybrids/electric vehicles. Using nuclear and renewables we have a chance to offset oil burning vehicles with non-fossil fuel power. Powering those electric vehicles off coal generated electricity limits their effectiveness.
2/ Natural gas is big in the US. It's a direct byproduct of the oil industry and pollutes too.

My point is that if you're talking about energy independence and importing, you're talking about oil. If you're talking about greening the portfolio (nuclear vs coal vs wind, etc), you're not talking about oil because hardly anybody burns oil anymore for electricity generation. Oil is used for fleet and equipment, but rarely burned to spin turbines anymore and has a very marginal role in the portfolio. Two different topics.

Hybrids/EV's are a way to ween off oil dependence. Fivepoint is arguing that we should facilitate oil dependence by drilling more. I can't tell whether you agree with him or not. Also, EV's/Hybrids don't generate electricity, they consume it. And I don't get why you're using coal and oil interchangeably. Coal is used in power plants to generate electricity. Oil is used in vehicles for what can now be considered a substitute for electricity. Different roles.

Natural Gas is a way to ween off both coal and oil dependence. One of the places you can find it is in oil beds, which is why the oil industry is involved. You can also find it on its own. But it has a much lower carbon footprint than coal and oil so it's a viable alternative for both electricity generation and vehicles.
---
FC Barcelona kit - 2010-2011
Wow. Just... wow.

What's so surprising? Aren't you running Windows on your Mac too?
---
Nike 2010/11 FC Barcelona
Eddyisgreat
May 2, 11:26 AM
Wait wait so what do I need to do to prevent catching this nonsense?

Oh, all I have to do is not install the app? Sounds good!

LOL phew ok wake me up when something important happens. I want to see a conficker (for instance) type worm that only requires that your box to be on to infect. No user interaction, no dialog boxes, just good old fashioned exploitation.
This is MORE kiddy garbage.
---
Team: Barcelona FC
shyataroo
Oct 12, 02:51 PM
I say screw the 8 core intel...lets get a dual-8 core G5 @ 4.2Ghz! with a seperate processor that dictates what operations goto what core to prevent the need for inter-processor communication! oh and make it a 128 bit processor with a built in Nvidia 7950 GX2 OC have it cooled by liquid nitrogen and have 1TB of DDR4 Quad-Channel Ram!
---
2010-2011 Barcelona FC Away
Dude. If this is your family, you need to be watching less TV and getting outside more. Or at least stay inside and play board-games with the kids. It's much more fun than vegging out on the couch.

geeze. Yeah, if I watched that much TV, I'd be complaining about the iTS too!

-Clive
It's not.

In my experience, video on demand is exactly what younger kids want. My boys (3 and 5, so not that far off your model family) watch more than their share of TV, but they tend to be quite "clumpy" in what they watch since they've grown up with PVRs all their life, they tend to watch lots of the same show, and rewatch things over and over. For instance tonight we were treated to 3 back-to-back episodes of "The Batman" from a recently released DVD and one episode of "Teen Titans" from the TiVo. I don't have to keep buying those shows, since once purchased or recorded, I have them. Tomorrow will be the younger one's choice, so my guess is we get to watch the Wiggles on DVD for the umpteenth time.

I do buy some shows on DVD of from iTunes just to get them off the PVR, to reward the content provider for things we enjoy, and create some space for new stuff to be recorded. For instance I bought two seasons worth of Dora The Explorer (49 shows) for $60.This works out to an average cost per episode of $1.22. On DVD they sell 4 episodes for $10-$16 which means a minimum cost per episode of $2.50, and up to $4. I no longer have to TiVo these and have them at my fingertips.



You're also still way off on your prices. The "multi-pass" for The Daily Show or Colbert is $9.99 for 16 shows (i.e. 4 weeks Monday-Thursday). You don't pay $2/show for them unless you're a masochist. Note also that you don't pay anything for half of the year since they are in reruns about half the time, so it works out to ~$60/year per show. (BTW What's the third TDS show? I guess I haven't been watching lately. :o)

News and sports are a completely different matter though.

B
You're right, my pricing was way off. When I originally calculated $150/month I was counting hours of TV multiplied by $2. Meaning I forgot to take into account season and multi-passes. Plus, when I was figuring daily shows I forgot to drop the weekends. :o

Either way, I am still willing to bet for a large family, cable is significantly cheaper (especially when you take into account all the TV watched for "background noise" (such as the food network)).

Plus the lack of news and sports and many, many TV shows would be a huge turnoff for a lot of customers.
---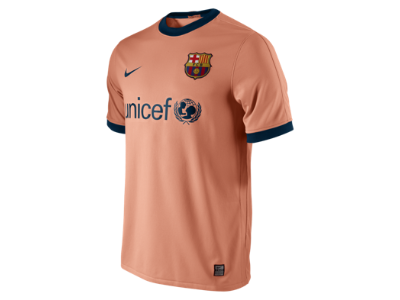 2009/2010 FC Barcelona Away
Besides, I said that Apple is doing what they can.

Actually, the last shareholder meeting had the vote to start the computer recycling program. The board of directors recommended that the shareholders vote "No" but the shareholders decided that the recycling program was important.

I love Apple as much as the next guy, but that recommendation was irresponsible and backwards. Apple deserves this bad press.

[edited to fix the quote. i quoted the wrong post]
---
-FC Barcelona Short Sleeved
I'm kind of caught between a rock and a hard place.

Speed is important for me: CD-burning, video-editing, animation-rendering. For that reason the last computer I bought was a Quicksilver. It was the obvious choice at the time.

I imagined that my next computer would be another Mac to replace my ageing PC. Now it's not so clear. From the informed posts by new P4/XP users on this site it's clear that PC could do the things I want it to do more quickly and, arguably, with comparable stability.

BUT, I'm an expat living in Japan. One huge advantage of OSX is unicode. My Mac has a Japanese OS, which is great for my wife, but when I'm using the Mac I can switch the user language to English. Much of our Japanese software is also unicode compatible, so we can buy one program that can be used in either of our native languages. This is very cost-effective in the long-run.

I'm prepared to wait until next year when, hopefully, Apple will be using G5 chips from IBM that are much closer to those from Intel/AMD. I don't need my Mac to be the fastest computer out there (the advantages of OSX would bridge the gap) but I want it to be comparable if I'm going to shell out the extra bucks.

I don't really want to use XP. On-line activation and security issues still put me off.

If, however, Apple fail to deliver an impressive new hardware set next year, my next computer may well be PC.

I hope not, but you have to be realistic...
---
FC Barcelona goalkeeper strip
tigress666
Apr 9, 01:44 PM
I still cannot believe that there aren't decent turn base strategy games on the iphone. Games like tactics ogre, final fantasy tactics, front mission, and the like would be excellent in a mobile device. I remember square announced FFT for the iphone a while back but it still was not released.

I would love if they ported PS1 and N64 classics to the iphone/ipad. Can you imagine playing FF7-9, Smash Brothers, Parasite Eve, platformers like Megaman, and even Resident Evil 1-3 (the RE4 port was dreadful, but I can see it being done properly).

They're starting to. They at least have FFI-III on the iphone. Plus at least two new ones made specifically for iphone (Chaos Rings, Eternal Legacy - which apparently is a FFVIII clone from GameLoft. There is also Song Summoner, another squaresoft game, which actually was made for the ipod with the click wheel and ported over to ipod touch/iphone). So, it's starting to get there :) :) :). I'm totally with you though. There are actually a few more by other companies other than Square or Gameloft if you look, I just can't remember them off the top of my head.

I'm so cheering for FFVII on the iphone (and yeah, parasite eve would be cool I guess but I wasn't into the whole reflexes added in gameplay. But I really love the story/atmosphere of Parasite Eve but I'll admit I enjoyed watching other people play it more than playing it).
---
2010-11 Barcelona FC Away long
Multimedia
Jul 12, 10:29 AM
I bet the the Quad G5 will retain their value for awhile.Yes, it will. Given that many pro apps are still not Universal, and that many times first ported version is somewhat buggy, the PPC hardware running native PPC software will become very valuable during the next 12ish months.I agree. It is a classic that can also run classic. And it is incredibly quiet - a feature seldom mentioned that many find valuable. In any event the G5 Quad will still be the second fastest Mac after this first round of Mac Pros ship. And I'd still rather have four G5 cores than two Core 2 Duo cores. Wouldn't you?

But I also think that for certain verticle markets, like video that are already completely Universal, this new IntelQuad may perform significantly faster than the G5 Quad - enough so for many video pros to take the leap. Looking forward to the benchmarks on this front. But realy waiting for 8 cores with Leopard next Spring. :)
---
citizenzen
Apr 24, 01:53 PM
If I told you I were a homosexual would that discredit or vindicate my views? Would it make them more... acceptable?

I'm just trying to find out how much you really love freedom.

So what is it?

Thumbs up for giving gays the freedom to legally commit themselves to a life-long partnership?

Or thumbs down?
---
I thought so. This is the first time I have seen the term "Multi-Threaded Workflow" and I thank you for that.
Yes, I was thinking of your workflow when I said that. :D


I'm glad to see you confirm my suspicion that the 2.33GHz Dual Clovertown Mac Pro will in fact be faster than the 2.66 or 3GHz Dual Woodie when someone knows how they work simultaneously with a set of applications that can use all those cores a lot of the time.
IBM's Blue Gene supercomputer (http://en.wikipedia.org/wiki/Blue_Gene) is fundamentally based on the fact that for parallel tasks you can essentially add all of the "MHz" together, and that lots and lots of slower CPUs will beat a much smaller number of much faster CPUs.

In the case of the current dual and quad core chips, you double the number of cores - but the cores aren't that much slower than the earlier chips. It's a win for lots of workloads, and not much of a loss for a completely single-threaded task.
---
Analog Kid
Oct 26, 01:34 AM
I can't think of what I'd possibly need that kind of power for here at home, but just the extravagance of having 8 CPUs ticking away is tempting in itself.
---
AP_piano295
Apr 22, 08:21 PM
Nope, most people identify with atheism but when challenged to defend their points they just say "because God doesn't exist" or something along those lines. They don't try to do the simple paradox argument, or the existence of evil argument. It would therefore lead me to conclude that they're atheists because they were exposed to it in pop culture or something.

When someone tries to say there must be a God because the probability of mankind existing is x I counter it with "In a universe that is thought to be forever cycling through big bangs and big crunches eternally probability becomes meaningless. Intelligent life would eventually evolve anyway, without a divine hand to guide it.

There are arguments and counter-arguments to both camps, which is why I choose to be agnostos. In the face of a dearth of evidence it's more rational to withhold judgment than leap to an extreme position.

There is no reason to imagine that god does exist, one doesn't need to provide a reason for not believing in god.

Can you provide me an argument for why you don't believe in witches or Santa?

EDIT: It is not reasonable to imagine that something does exist just because there is no evidence to support its existence (in case this isn't obvious :/ )
---
I *almost* feel guilty bashing AT&T at times, because 2 of my good friends have worked for them for years. But the company ALWAYS manages to infuriate me enough that I can't help myself. One of the two of them USED to try to defend AT&T when I started in on it, but even he has given up now - because the situations I keep describing to him are ones he simply can't make excuses for.

Here in St. Louis, MO - we don't have the notorious dropped call problems of parts of downtown Chicago or New York City, but it's still pretty bad! I had the original iPhone and then the 3G, and I could expect it to lose about every other call I made or answered. I can't say the iPhone's design didn't contribute to it, but all I know is, my friends on AT&T's network using other phones like the Motorola Razr told me they experienced pretty much the same thing.

We were using AT&T for cellphones, T1 data and voice circuits and regular land-lines where I work, plus advertising in the AT&T Yellow Pages, and NONE of it has been a good experience!

My "dedicated key corporate account representative" is notorious for never answering her office phone and not returning phone calls. SOMETIMES she'll email you a reply to a question or request after a few days, and other times? She might just forward it to someone else in her dept. who may or may not follow up. About the only time she made an appearance and acted like she cared was when AT&T gave her a "mission", such as getting her corporate customers to answer and send back some survey they were putting together. It was like pulling teeth to even get the company to call back to remind us when contracts were up for renewal!

Every year, we seem to have a new Yellow Pages sales rep. because whoever was assigned to us before has moved on to a new job.... It gets really old re-explaining everything about the business every year.

On the iPhone accounts, AT&T can't even seem to figure out what some of their pricing plans are for!? One of our iPhones was being billed about $10 a month more than the others because they configured it on a "corporate" plan they claimed was necessary for using it with our Exchange server. (Funny, but Exchange email worked just fine without this "extra" on the other phones!) When I questioned them, they couldn't pin down a reason for the "up charge". I finally determined it was simply an extra fee AT&T likes to try to talk businesses into paying, yet it serves no real purpose. It's probably just based on some theory that iPhone users connected to corporate Exchange servers will use more data than other people, so they'd like to get more money out of them. I finally got someone to remove the charge and the phone still works exactly like it did before!


I have consistently had problems with dropped calls ever since I switched from the original iPhone to the iPhone 3GS, they replaced my phone twice because of it. It would work for a while, but then drop calls, or get 10 call failures before actually placing a call, just to be dropped minutes later...

Yesterday I finally upgraded to 4.0.2 and it is even worse! Not only do I barely get any signal in my house, even when it shows I have a signal it still doesn't work. The problem seems to be when it goes into sleep mode it disconnects, because when I unlock it, a swarm of text messages and voice mails from missed calls I never received pour in...

I finally called up AT&T to see if there was anything they could do (maybe give me one of the femtocells to keep my 5 iPhone family plan happy (bill is almost $300 a month)... I was greeted by an unfriendly and unhelpful customer service agent. She pretty much told me there was nothing she could do (and when I asked about the femtocell she had no idea what it was, didn't even offer for me to buy it), and then she said its just the network, it happens to her all the time, I am probably in an area with poor coverage.

I told her to look it up on the AT&T coverage map it shows "best coverage" all around my house and where I live, pretty much most of Long Island. To which she said "coverage is not at all guaranteed", I flipped a bird and said "what the fu*k does that even mean, so I can get an at&t phone and pay for the service and you can't even guarantee I get service in any location around the world, even if you advertise it" to which she responded "yup". And I said, that's just ridiculous, I might as well switch to a carrier such as sprint or verizion (my parents have one of each) and they get service in our household. And then she said "Go ahead and switch". I don't remember exactly what I said after that, but she followed with other dumb remarks, such as, it could just be what your house is made of, or do you live underground? I'm sure I live in a cave lady... But I really can't bash all the Customer service agents at AT&T, some are great and very helpful.

Never the less, I was very pissed and disappointed with how AT&T is handling itself. Never have I had such poor customer service. When I had nextel and complained about their crappy service, they were very apologetic and offered me free stuff, and even if I never mentioned dropping them, but even hinted at the possibility, they would offer me upgrades and the works just to keep me... AT&T is just hit or miss, when the network works, its great and super fast, but if your in a high traffic or any other area, its the pits... Which is why I think people on the forums have such a hard time understanding these complaints. I bet the reason for the big change in satisfaction surveys has to do with geographic location. When I was in any other state but NY the service worked when it said I had service, but even then I could have full service, travel 10ft and get No service to show up on the iPhone, very spotty at best.

I am definitely going to switch my entire family plan over to verizion when our contracts are up in a year, I really hope they get the iPhone, if not, droid here I come! But to the rest of the community, has this ever happened to anyone else but me? Should I call back AT&T, at this point I would be willing to buy the femtocell, my phone doesn't work in passive mode, only gets service when I am on it and unlocked.

EDIT:
I actually looked up the femtocell, which is now called microcell to make sure I wasn't going crazy and to see if it is available in my area (which it is), and I saw a video that I just find hilarious! If you go to the following link and click on "increased signal strength" in the interactive video that loads on AT&T website for the microcell, it starts to play a video that actually shows how crappy their service is, with the guy having to hang out of the window to make a call... WTF? AT&T should fire whoever makes their commercials...
Check it out: http://www.wireless.att.com/learn/why/3gmicrocell/
---