Winning cake in the Royal
ender land
Apr 23, 09:15 PM
Why is the PRSI attitude 'religion is wrong'?


I have no idea. I'm not one of those perpetuating that attitude. All I know is that this is the attitude, regardless as to the "why" it exists. Maybe because the majority of atheists tend to have an attitude of more "religion sucks, I'm atheist" whereas religious people do not have an "atheism sucks, I'm theistic" attitude for the most part.

If these forums reflected US religious belief, atheist opinions would be vastly outnumbered by theists, wouldn't they? Why is this?

Honestly, if you really believe in Christianity or any other religion you won't waste your time posting on some internet forum under anonymous names discussing things which ultimately will benefit no one save providing some cheap entertainment. This is because people who are religious more often think their life has meaning outside what meaning they create for it. As such, self indulgence for the sake of entertainment is not normally valued in religion.

In general the internet is also ripe with issues that are not desired for nearly all religions (porn, suggestive pictures, swearing, etc). This is a key part of why I actually have avatars disabled on all forums I go to, many people like using really suggestive images as avatars. Some forums I will even disable images in posts.

Time spent on forums rarely results in any sort of benefit other than cheap entertainment. Granted, you can make friendships from it and even meet people you previously knew online (I'm guilty of this :eek:), but in general, the overwhelming majority of the time spent is "wasted." A single face to face meeting with a friend provides more long term value than hours upon hours of reading forums and posting.

The atheists I have known over the years tend to be far more bitter towards the world than theists. This does NOT mean everyone here is bitter towards the world. But it is a general trend I have noticed with the many atheists I have interacted with over the years and a trait I once shared. Bitterness tends to make you a loner. Loners seem to gravitate towards the internet because it is a place people accept you, at least somewhat, regardless of whatever reasons you are that way. I am in many regards a loner; I have probably 20k or 25k posts on forums over the past years as a result. I suspect this is also true of the majority of posters here, deep down, we do not naturally form relationships quickly and it's way easier to get cheap social interaction online than in the dreaded Real Life.

I guess the overarching generalization is that people with theistic beliefs have greatly different priorities than those who do not. More often than not, there are things in people's lives they value much more than cheap online entertainment, and as a result, tend to stay away from it as such. Those without such beliefs/convictions/etc are far more likely to do things which are a waste of time. The stronger someone's theistic beliefs are, the more likely they are to both defend them as well as believe what I just wrote, so all you normally will find online is people who are halfheartedly theistic or are the "sunday morning Christian" or "twice a year Christian" types.


btw, thank you for making me think through this answer, it has made me aware just how much of a waste forums like this in fact are. I can list dozens of things which are more valuable, fulfilling, and beneficial longterm than browsing macrumors or the other forums, yet for some reason I still spend time here. I definitely will be evaluating this time...
---
Royal wedding cake has EIGHT
eric_n_dfw
Mar 20, 07:25 PM
Hey, good point. Even it is totally unfair and unjust, it's still wrong because breaking the law is wrong. :rolleyes:What is unfair and unjust about DRM? It's your $.99, if you don't like DRM, don't bitch about it - just spend it elsewhere! :rolleyes:
---
The royal wedding of Prince
Small White Car
May 5, 10:23 AM
AT&T's plan worked brilliantly.

They put me through a year where about 40% of my calls got dropped and then fixed it so only about 5% get dropped now.

So even though that's worse than the other carriers I am personally thrilled with that number.

So...good plan, AT&T!
---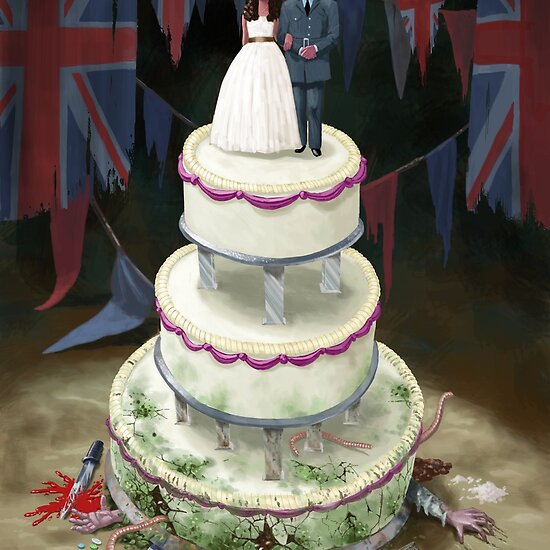 Royal Wedding 2011 Cake
ten-oak-druid
Apr 15, 09:59 AM
I have a couple problems with this approach. There's so much attention brought to this issue of specifically gay bullying that it's hard to see this outside of the framework of identity politics.

Where's the videos and support for fat kids being bullied? Aren't they suicidal, too, or are we saying here that gays have a particular emotional defect and weakness? They're not strong enough to tough this out? Is that the image the gay community wants to promote?

Man, being a fat kid in high school. That was rough. There were a number of cool, popular gay guys in my school. I'm sure they took some crap from some people, but oh how I would have rather been one of them! But hey, I'm still here, I'm still alive.

Bullying is a universal problem that affects just about anyone with some kind of difference others choose to pick on. It seems like everyone is just ignoring all that for this hip, trendy cause.

This sentiment leads to defeat on all fronts. It is also used by people against the particular issue to divide and conquer.

In this case, someone who really wants bullying of another segment of the population specifically addressed should embrace the start of the one movement already begun and network with the people involved to gather their support in embracing the other issue or including it.

Simply arguing one movement on an issue is not worthy of support because it is not all inclusive is not helping anyone.
---
royal wedding cake
1 iPhone Model (3 capacities) on AT&T vs many different Android Phones on all the other providers...

Seems possible to me...

(I can see a FREE Android Touchscreen phone with unlimited voice, data, and text for $70/month from someone out there to try to beat AT&T's offering - which isn't very hard to do...:eek:)
---
the royal wedding 2011 cake.
I wouldn't be so opposed to this if AT&T could accurately track data usage. A number of people are being billed for some fairly large data usage which does not match their actual usage.

Here is the thread on Apple's support forum. http://discussions.apple.com/thread.jspa?threadID=2450738

As you can see, its been going on for a while. No one noticed until AT&T introduced their tiered data plan.

Until AT&T gets their data usage accounting worked out, I will NEVER sign up for their tiered plan nor their hot spot plan. Imagine how much worse their accounting will be with hot spot. And you have no tools to determine the real cause of the issue.

What is really stupid about this from AT&T is that they are requiring the user to act to Opt Out of getting the hot spot data plan. I thought companies stopped automatically enrolling people even if they were notified. I thought companies were supposed to require an Opt In for subscriptions and services.

Did we just go back 10 years?
---
Royal Wedding 2011 cake
Lord Blackadder
Mar 14, 06:11 PM
- Grid energy storage tech needs to advance so renewables can be integrated into base load and we can phase out fossil fuels and nuclear.

The problem with this is that I don't see any huge breakthroughs in battery technology on the horizon, and the most efficient 'battery" is still water behind a dam - or the energy contained in non-renewable sources.

We need to operate on the assumption that storage technology is not going to fundamentally improve.
---
royal wedding 2011 cake. The
MagnusVonMagnum
May 3, 06:28 PM
It has nothing to do with being a "fanboy". It has to do with facts.

100% bullcrap. I just waded through this god-awful thread and almost every single post that said anything positive about Windows in any way, shape or form (truth or nonsense alike) got zapped with negative votes. Anything that contradicted the idea that OSX is 100% safe and that there's no possibility of any kind of malware got zapped with negative votes. Any time anyone says anything against Apple or Steve Jobs or any feature that someone doesn't like about either OSX or hardware offerings from Apple (no matter how true), it gets zapped by the usual suspects. You don't need a flipping degree in rocket science to make that observation dude. But then you ARE one of the usual suspects, so I shouldn't be shocked.

Here's a great example of 100% BS from YOU. A claim was made about 100 million Mac users and growing. A guy replied with proof that the number of OSX users is currently 50 million. Here's your reply:

That's Mac OS X installed base, not the installed base of Macs, as I said. Mac OS X is not the only Mac OS out there. Reading comprehension is fun!


You are clearly implying that the 'other' 50 MILLION "Macs" out there are pre-OSX (i.e. OS9 or earlier). And don't tell me you meant "iOS" devices as they are not "Macs" and your reply specifically says Macs.

That is just a laughing crock of BS it's just unbelievable. For god's sake man, you are telling me that there are JUST AS MANY OS9 and earlier Mac users out there as current OSX users?????? REALLY?????????? WTF!? Man, why isn't Chrome offered for OS9 if there's so many OS9 users out there? Firefox and Google alike declined to even offer it for PPC users because their statistics showed only a tiny percentage of active users even show up at their sites using PPC (let alone OS9!) and yet you want me to believe HALF of all current Mac users are using something other than OSX. I can smell that BS from a thousand miles away dude. WTF should anyone believe anything you say ever when you post such obvious BS on here?

If that's not a prime example of fanboy DRIVEL and the total biased slant against everything that isn't Apple/Mac around here, I don't know WTF is. :rolleyes: :rolleyes: :rolleyes:

The report I read in 2009 stated "OSX" users went from 25 million in 2007 (including a lot of PPC users who have since dumped their machines because they are not terribly useful or have upgraded, which is 1:1, not an increase) to 75 million but the article specifically said it included iPhone and iPod Touch devices, which aren't Macs (iOS is derived from OSX, but it's not quite the same thing and they aren't called Macs). 50 million is a fair estimate, IMO for actual active Macs. It's certainly nowhere near 100 million without iOS devices.

In any case, SOME of us don't give a crap about Apple Vs. Microsoft. I don't like EITHER company. I use whatever computer and OS suits me. Right now I have more OSX computers than Windows/Linux, but I use all three. That could change in the future, particularly IF Apple at some point decides to make OSX closed like iOS. But the point is I hate fanatical BS around here. This is not the Mac Advocate Forums, but some days I'd never guess it. I come here for news and rumors and I wish useful discussion, but I see more arguments over STUPID BS than I'd care to see and it gets OLD.
---
the royal wedding cake 2011.
neko girl
Apr 26, 10:19 PM
I invite you to demonstrate how Islam is a threat to freedom and democracy.
http://en.wikipedia.org/wiki/Internet_censorship_in_Pakistan

This is fun..
---
royal wedding 2011 cake. The
dante@sisna.com
Sep 12, 06:23 PM
You do realize that we live in a capitalist culture right, one of the greatest consumerist cultures to have ever existed on this planet. Do you honestly believe that purchased content, free of commercials, is going to work? It was all fine and dandy when it was Apple stopping file sharing but when it's Apple honing in on the terrain of a multi-billion dollar advertising system, they're going to face significantly more resistance. And that's why cable and satellite television aren't going away anytime soon. Either that, or you can expect to see commerials coming to your iTunes downloads in the future.

Actually as a media advertising agency owner I can tell you that you've got it backwards. Cable and Satellite are all planning to go to a totally on-demand solution much like iTunes. Commercials and advertising will evolve, through viral marketing and embedded content, as it always has. The days of linear programming cut up with ads are nearing their end.
---
royal wedding 2011 cake. The
Probably, unless Apple recognizes the competition and responds by:
- Removal of 3g cellular restrictions not technically motivated at least outside of the US
- Allowing at least music apps like Spotify to run in the background
- Improving the app approval process to become more like the Android process
- Flash support in Safari (with an option to disable this)
- SDK that can execute on other platforms like Windows or Linux and that uses a more user-friendly and intuitive language than Objective-C
---
to the Royal wedding cake
Can't just hit Delete? Can't move up a level in the directory structure? Yikes.

Ya know what? These may all be little things individually, but collectively as a whole I think they'd drive me nuts.

I'm still on Vista... maybe going to Windows 7 might be the smarter move in my particular case.

Thanks for your help everyone, I sincerely appreciate your input.

Gotta do some serious thinking about this...

It's cmd-del. And yes you can move up the directory structure.
As someone else pointed out, it's just different. I have used PC's since around DOS 3. I still use them extensively, and also use Macs and manage both as the IT person at work.

My belief is the better a person is at both, the more they realize it doesn't matter. Both have problems, and both work very well. They are just different. When someone thinks one is far better than the other, they probably lack skills in the system they don't like - whether they know they lack the skills or not.

If when you swtich, you will have a month or so of frustration as you struggle to do things that were easy with the PC, like how to delete a file with the keyboard, or that there isn't an up button in the finder. But you will soon find that cmd-del works, and that you can click on the directory hierarchy at the button of the finder window.

My biggest frustrations have been that shortcuts are very different. I use office products a-lot on both platforms, and it is hard to go back and forth. Particularly the usage of the home and end keys. Also, shortcuts are inconsistent between apps on the Mac.

If your PC is old and needs replacement, get a Mac or a Windows 7 PC. You will probably be happy with either in the long run. If you like learning new things, the Mac might be more fun and exciting. Although if you were still on XP, Windows 7 would be different as well.
---
The eight-tiered wedding cake,
gorgeousninja
Apr 21, 08:02 AM
You must live in a alternate univerise if think that Apple users are tech savy. You average user is very happy to have Apple control thier experience, ie they are techtards. And frankly owning an Apple product is the best thing for them, with a PC etc they will just get themselves into trouble.

If your still under some illusion of how tech savy they are read through the macrumors forums...... and remeber they are the more tech savy ones!

I have moved every family member over to mac who has no idea about computer, they are happy. The people I know who work in IT, develop and are really tech savy, still have a PC (and an android, some have both android and iphone)

it would help to show you were a little more tech savvy if you learned how a spell-checker works....

It's really quite amusing to hear some of these 'Droid fans who think that just because they've changed their phone wallpaper makes them some kind of techno demi-god.

I am sure all your family members are very happy you 'moved them over to mac' (though I do wonder if they're aware of how patronizing you are)..

Who got the best deal? Your family have products that will do what they need when they need. You have a product that if you can keep it virus free and updated to the latest version will be seen as a major achievement.
---
the royal wedding 2011 cake.
Largest App store.

This is the company who is in court saying that App Store is a registered brand name, and thou shalt have no other App Stores.

Then they themselves say that THEIR App Store is the largest.

Hippoc... hypocr... how was it spelled again?
---
the royal wedding 2011 cake.
No it couldn't. That would require grid energy storage technology that currently hasn't been invented yet.

Look up base load generation. There are only a few sources of generation that fall under this category. Nuclear and coal are among them. Most renewables are not.

I love when people don't read threads....

this was already posted, way to go...

http://www.scientificamerican.com/article.cfm?id=how-to-use-solar-energy-at-night
---
Royal wedding cake
bboucher790
Mar 18, 10:33 AM
I don't think it is a bad thing for AT+T to prevent people from tethering to a laptop on an unlimited cell phone plan. Those people are just taking advantage of the system, and wasting bandwidth that the rest of us could use.


As far as I'm concerned it is the same as going to an all you can eat restaurant and sharing your food between two people, while only paying for one. It isn't a serious crime, but it is stealing, and you know that if you get caught you will have to stop. I'm not going to feel bad for these people that are using 5+GB per month.

+11

The whole "it's MY data, I can do what I want with it!" argument is countered by your perfect analogy with a buffet. I tip my hat to you on that one. If you're at an all-you-can-eat buffet, it doesn't mean you can share your food with your entire family.

I've always believed that unlimited data, on a smartphone, enables you to connect to the internet as much as you want on the device you're contracted to. It's not like home internet where you can share the connection, nor have I ever imagined it would be.

I think that people just like to get "angry at the man" when they don't get things the way they want. ATT is trying to improve their network, good for them.
---
royal-wedding-cake-william
For people to view conroe as a lesser chip in some way smacks of mac snobbery and I tend to agree with him.

...but they are a lesser chip in some ways (more so if you also consider the chipset)...

(not forgetting AMD in the following... just trying to keep it simple... also note when I say Conroe or Woodcrest I am also implying different class of chipsets)

The simple fact is workstation class systems from most vendors (in recent history) are usually based on Xeon (now Woodcrest) CPUs with 2 sockets (if not more) while desktop class systems from most vendors are are based on Pentium 4/D (soon Conroe) CPUs with 1 socket.

So the question is will Apple replace the PowerMac G5 with a true workstation class system, or will they split the PowerMac into a desktop tower and workstation with the former using Conroe and the later using Woodcrest, or will they use Conroe only (and for the moment not have a quad core system), etc.

Historically I have stated that Apple will use Conroe in a PowerMac replacement and wait for Kentsfield to bring back the quad (doing that would give them great performance and price point)... but looking at the timing of things now (and Intel price drops) I am starting to believe either Apple will go all Woodcrest for the PowerMac (truly make it a workstation class system) or go all Woodcrest for a workstation Mac and bring out a lower end tower that uses Conroe.
---
The Royal Wedding Cake
Part of the problem is that God has always been a terrible communicator. ;)

Nope. Unlike Captain Kirk. God is a firm believer in the Prime Directive (http://memory-alpha.org/wiki/Prime_Directive).:D

Anyhow, back on topic as why I'm religious? I don't see the need to reinvent the wheel. There's already someone who has perfected the moral system: Jesus. His moral system, IMO, is the best one. It's a hard system to follow, but if--big IF... no HUGE @$$ IF--everyone can follow that system of morals, the world would be a lot better place.
---
Royal Wedding Cakes
spicyapple
Sep 25, 11:36 PM
Did anyone listen to TWiT? Someone mentioned 80 cores. Clovertown, your days are numbered. ;)
---
You're all far too willing to accept the RIAA's iron grip over downloading music. Apple's DRM is disgusting - but you want to say "shut it down! or our prices will go up! or they'll make the DRM worse!" Well, you've got to do better than that - because they owe it to us to sell a better product. I want to own my music - I know the paradigm is new, I know it's a virtual product any way you slice it, but DVD Jon is doing the right thing, and we need to send a message.
---
Oh yeah, these babies will fly. Looking to replace my 2004 PowerMac G5 Dual 2.5

Bring it on :D
---
Smallish mid-tower case
Intel Core 2 Duo @ 2.8Ghz or better
1GB RAM
250GB SATA 3.0 HD
1-PCIe x16 Slot
1-Standard PCI Slot
6-USB 2.0 ports (One in front)
1- Firewire 800 port (in front)
Dual Layer DVD
Onboard 10/100/1000 (I don't care if its wireless, but a wireless opition would be nice but not necessary)
Graphics Card should be x1600XT or better with 256mb RAM

I want it at or less than $1199.00

Now gimmie

Oh, and P.S. - Don't make me put a Dell 24" LCD on it - Drop the 23" cinema display to $999 and the 20" to $699 - that still leaves you with a nice premium.
---
Hate to break it to you, but it's someone at Apple that flagged "Zip files" as safe for Safari to open ;)

That guy needs his head examined.

So very true, zip files have been carriers for malware and viruses for years.
---
darkplanets
Mar 12, 11:18 PM
It won't be an issue. Please refer to my previous post in this thread.

I feel like the fear mongering done by the international media is just unreal-- is everyone that uneducated?
---